This is a summary of the week that was…. work, magic and everything in between.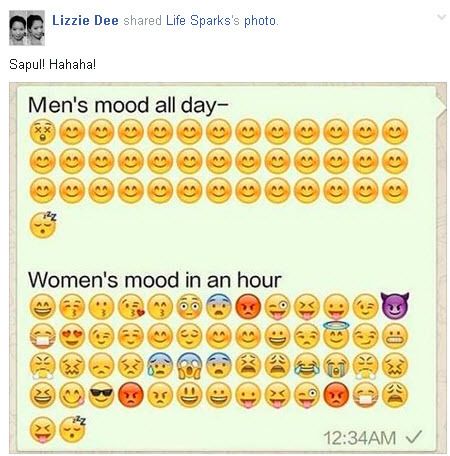 Feeling entertained
I've found a good read online and I can totally relate to the author – Things My Male Tech Colleagues Have Actually Said to Me, Annotated
We're the same in a sense that I've been working in a male environment since OJT days up to this point since technology is my expertise. But unlike her, I don't make sacrifices for Llorothaag.
Feeling fooled
Much of being trolled to think that it was past April 1. I clicked on hot girl's thumbnail on Facebook not knowing that it was linked to the many funny faces of Nicolas Cage. #Sucker
Feeling excited
I encouraged my friend Ed to join Team Well Played's Hoodie & Shirts Giveaway and so he did. Here's our entry!
Grieving…
My boyfriend's grandma passed away and it was a very sad news to the family. While she was really old, no one's prepared for it. There is no such thing as timely death.
Sick…
I was sick since Thursday and a bit worried about my weekend. It might mean I have to stay at home. #Boring
Feeling content
I was ranting about how unlucky my summons were but a guild member assured me it was fine.
M1: You know the secret to happiness?
Me: Contentment?
M1: Lower expectations. LOL
#TrueStory
Well, I've been playing Summoners War for 1 and half months and some people think I'm lucky to have these monsters:
Feeling accomplished
Finally got a Dark Death Knight. #B1Forever
Feeling a little better
… because I've got my daily dose of magic on a Black Saturday.
Don't expect a detailed report. I was kinda sick and too sleepy to remember (coming from my graveyard shift as usual). I used the same deck from last week with slight changes as follows:
Main:
– 1 Bile Blight
+ 1 Ultimate Price
(I've got no Dromoka's Command yet for Valorous Stance's slot.)
SB:
-2 Back to Nature
-1 Surge or Righteousness
+2 Master of the Unseen
+1 Ultimate Price
PPTQ Milwaukee
RD1: WIN
2-0 vs UB Control
RD2: WIN
2-1 vs Abzan Aggro
RD3: LOSS
0-2 vs RG Dragons
RD4: WIN
2-0 vs Abzan Midrange
RD5: DRAW
ID with 4-color combo
Quarterfinals: Conceded to my good friend Roy.
Notable cards from my prize packs: Atarka's Command, Deathmist Raptor.
Feeling hyper
Cheers to Sunday gaming! It's nice to see my friends again. LOL. And I went crazy upon seeing the altered Ajani's Pridemate with four seasons of Hello Kitty!
Feeling stupid @ XHC's GPT Kyoto
RD1: LOSS
1-2 vs Monored Aggro
I let my Wingmate Roc died to Roast. I must've been very hungry by then thinking about nothing but roasted chicken. How could I let it happen? Actually, we've been in a complicated sitch since it involved my boyfriend who was a spectator of the match. I took all the responsibility of that illegal play and still won Game 2. GG on Game 3. I didn't stand a chance with Eidolon of the Great Revel after missing my 3rd land drop. It was too late for Drown in Sorrow.
Feeling more stupid
RD2: DRAW
1-1 vs BW Warriors
I wasn't able to shake off the feeling of being too stupid…. so let's welcome another mistake. Since my Fleecemane Lion has been swinging freely for 2 consecutive turns, I assumed he didn't have any Bile Blight. Prolly not yet. And I overcommitted with my second Fleecemane Lion. Both met a blighted ending on his turn.
Feeling demoralized
RD3: LOSS
1-2 vs UB Control
This is the worst misplay I've ever done. Most stupid that I couldn't forgive myself. Using Elspeth, Sun's Champion's second ability to destroy Silumgar, the Drifting Death while I had a 4/4Elemental creature from Nissa, Worldwaker? WTF ran through my head?! Maybe, all of my brain cells died with so much frustrations earlier. My sanity has forsaken me. And I decided I'm going to drop.
Feeling guilty
For the first time, I didn't walk the talk. Last week, this was my comment on xalmendarez' blog post:
As much as I wanted to continue playing, I was too certain that I won't do any better. I promised myself to make it up with lots of playtest the following week. I was too scared to look into my boyfriend's eyes because I knew, he was going to say a lot of nasty things. I talked to my friend instead, "Pong, what's the plan?" He got 2 losses already and wanted to drop as well. I told him I wasn't ready to listen to a nagging boyfriend for I might break down any moment…
Feeling rewarded
I was thankful Raven has been considerate and didn't say a thing. Whew. We just sat down and started opening packs. I bought something for my deck (Please disregard foil Lose Calm and the other side of Morph token):
Feeling positive
We headed to SM Megamall from XHC for our usual Sunday late magic with cosplayer friends. There I got my much needed summer lovin' and care from my girl friends. I also got a choco mango crepe from them after dinner! #SweetTreat
Feeling creative
Our craziness kicked in! Meet Wasabi guy.
I made his balls and cover them with parsley because it was Easter Sunday and I wanted them to join the "egg hunt". Tinn almost died laughing. LOL
Feeling blessed
We parted ways at around 10PM. Raven and I had our second dinner at local tapsihan and we found a stray kitten on our way home. He brought it with us and I named it Django.
Thank you for reading. 🙂
P.S.
As suggested by Pong, I'll be changing my pink sleeves with RTFC soon. Read the F-ing cards because reading is tech!