Last year it was Lizzie Dee, now it's Jaya Ballard!
Who am I kidding here? It's the same MTG Demo Team, only bigger. Plus, Wella dressed up as Chandra and yours truly as Jaya Ballard.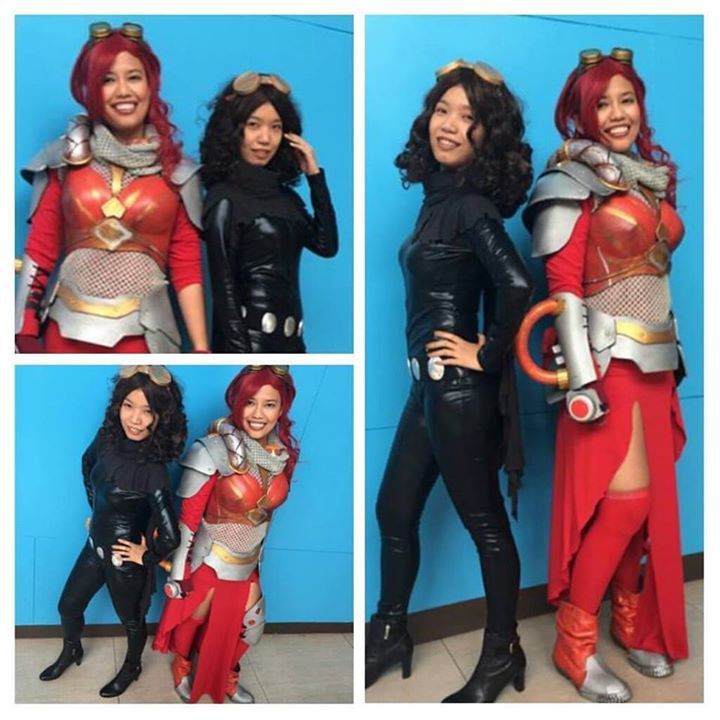 I had the opportunity to play as the frontliner inviting people for the demo, so yes, more photo ops. Lol.
My Day 1 went like this:
Day 1 CosMania: Just like last year, only better…
The Bad: Ako na ang pinaghalohalong Catwoman, Black Widow at taong grasa.
The Good:
1. Highschool guy fanboys, "OMG! Chandra's teacher! —– Jaya Ballard " (Okayyy, not really but way better.)
2. Sophisticated mom: (brows raised while scrutinizing me from head to toe): Kumakain ka pa ba?
Me: Opo. Kakatapos nga lang.
Sophisticated mom: Kakainggit ka. Ang sexy mo. (Palakpak tenga ko)
3. Mom (w/ daughter by her side): Miss pwede ka ba mainterview about cosplay?
Me: Ay hindi po ako talaga nagcocosplay. May event lang ngayon. Try nyo po MTG demo.
Mom: Project nya kasi sa school yung interview.
Me: Wait po. I can guide you sa PR if you have other questions.
Mom: Ah hindi dun na lang. Ang ganda pa naman ng suot mo.
(Me: Oooooohhhhh)
456x insert random encounters
The Best: Oh yisssssssss! YOLO YOLO din pag may time.
Playing MTG with your friends is as fun as teaching the game to others with them. Look at us!
Sunday came and we're back to business.
I really like seeing competitive players. Of all the demo/matches I've setup, my fave were matches between siblings. Younger ones were so energetic while older siblings were obviously skilled. I even get LSSed with the little boy's winning chant against her sister: "Hit me with your best shot! Hit me with your best shot…"
I'm not sure how many demo decks were given away but I'm pretty sure there'll be lots of new faces to see in different MTG stores and tournaments!
Once again, big thanks to Wizards of the Coast and the entire MTG Demo Team for another great experience.
The fire mages wish to say Hi!
P.S.
This is how I transformed! #TROLLOLOL

Image credits:
Xrystina, NicaBun, VicV