There's supposed to be no Sunday Gaming for me because I was too tired from last night. But then I woke up at 11 AM feeling refreshed and invigorated. I went online and found a sweet event: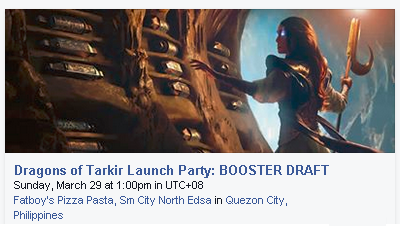 Unfortunately, I didn't make it in time so I ended up joining a Standard pod using my Abzan Aggro deck.
RD1: LOSS
0-2 vs Temur Midrange
Those DTK dragons killed me! I had a hard time dealing with Thunderbreak Regent and Icefall Regent. And there was always a Stubborn Denial to ruin my plans.
RD2: WIN
2-0 vs UW Heroic
That moment when you have Siege Rhino, Wingmate Roc and 3/4 Bird token then Sorin visited and gave them +1/+0 and lifelink to turn the table… Winner!
Game 2 was a bonus since he was stuck with one land for a while and it was too late to draw his second land.
RD3: WIN
2-0 vs UB Control
I hate blue cards. Playing against control means I have to deal with a lot of counters and removal. Whew. So happy to win the first game!
In game 2, I had an early Fleecemane Lion and it remained untouched. I was expecting a Bile Blight or Hero's Downfall but there came Ashiok, Nightmare Weaver after his third land drop. He +2 it exiling 1 Rakshasa Deathdealer and 2 lands. It took me long to decide about my first attack. I decided to attack Ashiok with Fleecemane and gave it two +1/+1 to kill the planeswalker. He cast Perilous Vault on his turn. I attacked for 5 damage. He passed the turn and missed a land drop. I played Thoughtseize and his nonlands were Thoughtseize, Dissolve, Perilous Vault, and Ashiok Nightweaver. I chose to discard his Thoughtseize because it was the worst card he could use against me while I've got Siege Rhino, Wingmate Roc and Sorin, Solemn Visitor. He got his fifth land and passed the turn. I attacked with my Fleecemane Lion. He took 5 damage. And another 5 damage on my next turn. I wanted to flush his Dissolve and/or activate Perilous Vault real bad. I cast Sorin but he didn't counter it. But after putting a 2/2 Vampire token, he activated Perilous Vault EOT. When he was down to 9 because of Polluted Delta, I already had 2 Siege Rhinos handy. I just drew Anafenza and cast it only to be countered. Just as planned. He then played his Ashiok and +2 getting 2 Rakshasa Deathdealer and 1 Duress from me. I played the first Rhino making him down to 6. There came his Tasigur and Perilous Vault next. I was hoping for a sweet topdeck and got a third Rhino. The second resolved and he was down to 3. On his turn, he attacked with Tasigur. I blocked just for the lels. He used Ashiok's second ability for Rakshasa and while it's on the stack, activated Perilous Vault. Everything was exiled except for Rakshasa. The moment he tapped out, Siege Rhino wanted to charge right away. *poker face* And so the third Rhino zeroed his life.
Thus, the revenge of the Rhinos.
#Sweet