I guess that's the only highlight of my Dark Ascension PR... 🙁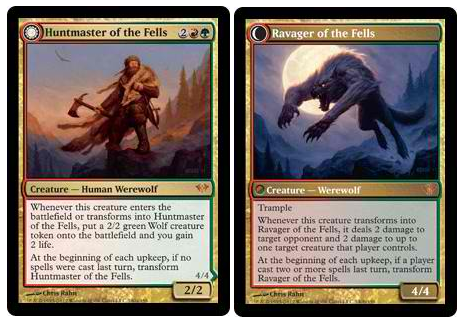 I also got Mikaeus, the Unhallowed from the same pack where I got Huntmaster of the Fells. Pretty lucky with double mythic but that was the end of it.
As for my doubts and sentiments, you can view it here – My Dark Ascension Prerelease Experience
And I just feel like posting the new rares in our card pool (mine + bf's):

Since MTG Helper plugin is not yet updated with Dark Ascension cards as of this writing, here's the list:
Huntmaster of the Fells
Mikaeus, the Unhallowed
Woodland Cemetery
Falkenrath Aristocrat
Alpha Brawl
Mentor of the Meek
Flayer of the Hatebound
Heretic's Punishment
Increasing Ambition
Increasing Savagery
Lost in the Woods
Kessig Cagebreakers
Laboratory Maniac
Skirsdag High Priest
Havengul, Runebinder
PS:
I'm looking for Akroma, Angel of Wrath for my EDH deck!